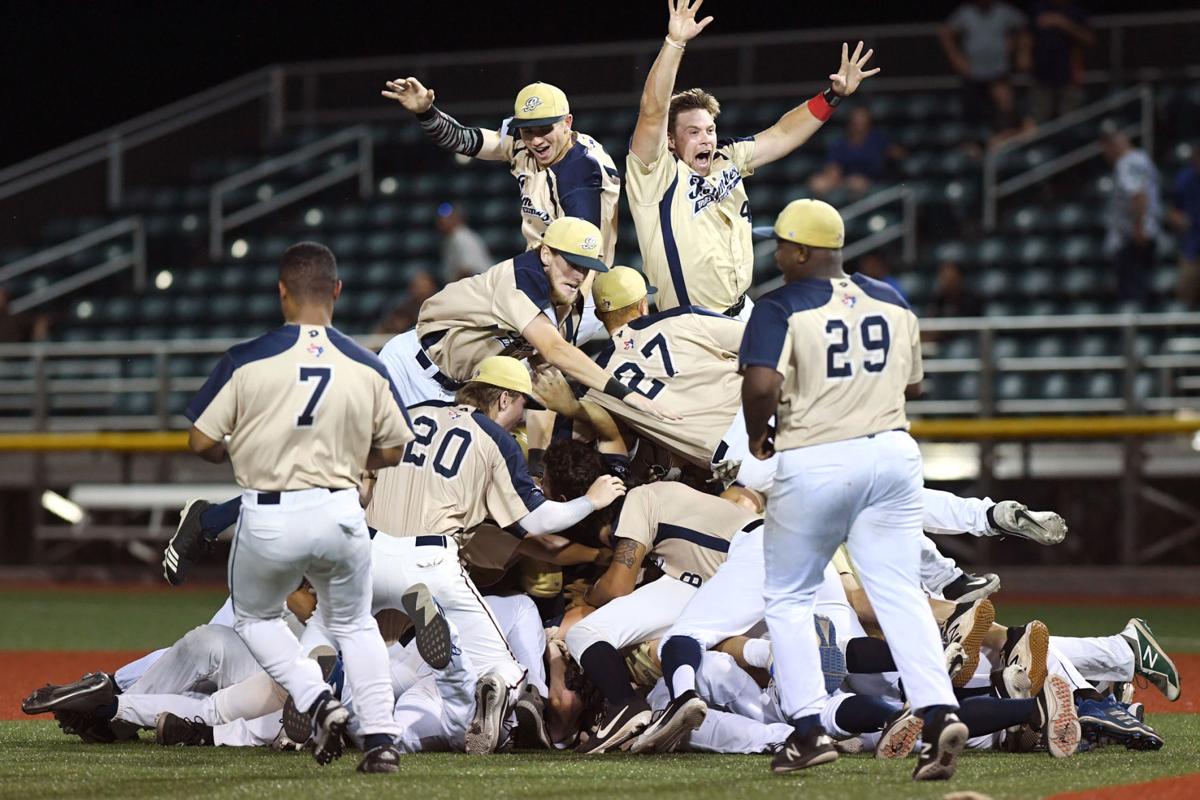 The Brazos Valley Bombers would be the normal pick to win the Texas Collegiate League, having won six of the last seven titles, but nothing has been normal about 2020 because of the coronavirus. The disease has altered just about everything, including the TCL.
The wooden-bat league will have a novel season with six new teams because there's no minor league baseball.
"I think the big difference this year is that all the teams in the revamped TCL are going to be really good, just because there's not a heck of a lot of places to play summer baseball this year," Bombers coach James Dillard said.
The Bombers have a few players who probably would have played elsewhere in other years, such as the Cape Cod League, but the other teams also have quality players, Dillard said.
"That's going to be evident on the field," Dillard said. "Normally, we have three or four really good pitchers and the other teams may have 2-3. But now, they're going to have 4-5, just like we do."
Typically, TCU and Houston each have one or two players in the TCL, which had five teams each of the last four seasons. But this year's 10-team league includes 8-9 Horned Frogs and several UH players, Dillard said.
"I think our players realize how much more talent is in the league right now," Dillard said. "And I think it's going to be a very positive thing for the TCL moving forward."
The Bombers will open the 30-game season at 7:05 p.m. Tuesday at Travis Field against the Round Rock Hairy Men, one of the six newcomers who will play home games at minor league venues. A third of the first 24 players Round Rock signed were from Baylor or Houston. The Tulsa Drillers have 16 players from Power Five Conferences and the Frisco RoughRiders have nine.
"It's going to be one of the toughest summers, as far as the Bombers go, but I love our team and I love the guys on it," Dillard said. "They're a great group of guys. They're going to work hard, and they're going to get after it, so that's the encouraging thing."
The Bombers have 18 pitchers on their 35-man roster. Starters often will go only three innings.
"That's because they haven't thrown, and we have to get them back to their schools and universities healthy," Dillard said.
The Bombers will start with the a six-man starting rotation that includes College Station right-hander Travis Hester, who has transferred to Baylor after two seasons at Arkansas, and Texas A&M's Bryce Miller, who is making the transition from closer.
"Going into [next] season, I want to be a starter," Miller said. "The main focus this summer is changing that mentality from closer to starter and getting comfortable on the mound at the beginning of the game instead of the end of the game."
Miller will work more on varying his pitches.
"I'm comfortable with all four of my pitches, but it will be good to show the curveball and change-up [more]," the right-hander said. "Whenever I was closing at A&M, it was hard to throw all four pitches in the ninth inning."
The other Bombers starters are Galveston College right-hander Jaycob Deese, who has signed with UH, Southeastern Oklahoma State right-hander Logan Teske and Texas State right-handers Tristan Stivors and Trevis Sundgren. Hard-throwing Deese was 3-1 this spring with a 2.09 earned run average in 43 innings with 46 strikeouts and 21 walks.
The Bombers key position players include A&M infielder Logan Sartori and Akron outfielder Bryant Shellenbarger, who both played for the Bombers last year. Sartori batted .267 last summer with three homers and 25 RBIs. He had a great start to his Aggie career this spring, batting .353 with two homers, six doubles and 10 RBIs in only 15 games.
"I'm going to work on my pitch selections," Sartori said. "I'm going to be looking to swing at my pitch, really seeing some more pitches and seeing 'em deep [in the box] and just improve my approach that way, where I'm more disciplined at the plate."
Other Aggies playing for the Bombers are Austin Bost, who will play first base and designated hitter, and former Incarnate Word catcher Taylor Smith, who is transferring to A&M from Grayson County, where he hit .351 in 57 at-bats with five home runs and 28 RBIs. As a freshman at Incarnate Word, Smith hit .322 with 16 home runs and 57 RBIs. Another middle of the order batter will be Texas State infielder Wesley Faison, who batted .352 for the Bobcats in 54 at-bats with six homers and 15 RBIs.
"This team has bigger built guys than last year's team," Dillard said. "But we've also got your prototype guys that'll go first to third on a hit and look to steal a base."
The Bombers are two deep at every position.
"There's going to be some games where if we're playing especially well and that group is playing really well, we'll probably run them out there a couple of times in a row," Dillard said. "But you'll see a different mix of guys almost every night."
There's a need to switch starters more often in this shorter season compared to past seasons when the Bombers played more than 50 games.
"Normally, we're about to be at the all-star break, but we haven't even thrown the first pitch," Dillard said.
A year ago the Bombers already had wrapped up the first-half title for the 11th time in 12 years. The Bombers excelled finding standout players for short-term stays while they waited for late-arriving players from NCAA tournament teams.
"We've always started fast," Dillard said. "Gosh, 10-1, 10-2 you know, 13-1. And this year it's going to be completely different."
The teams will start pretty much with set rosters, which are deep in pitching.
"This year everybody is going to kind of start off in the same boat," Dillard said. "You're going to find that the pitching is going to be just so much further ahead than the hitters because a lot of these guys have not seen pitching that they're going to see. They haven't seen this kind of velocity numbers since March."
And in March, the batters weren't using wooden bats.
"And a lot of these pitchers have continued throwing throughout the whole coronavirus stuff," Dillard said. "I think that's going to be a big difference."
Good pitching means competitive games.
"I think as the summer plays out, you're going to see a lot more one- to two- to three-run ballgames," Dillard said. "I think every game is going to be a pretty close ballgame, unless the pitchers are just off early, which is capable of happening."
Dillard is confident the Bombers have the offense to reward their pitchers.
"We're going to be able to [score] both ways," Dillard said. "We've got enough guys in our lineup who have speed. And if it's a night where we're going to need to win a one- or two-run, low-scoring game, I think we can steal a base or go second to home [on a hit]. But if it's a game where we're going to need a three-run home run or a two-run home run, I think we've got guys in the lineup that can do that as well."
One thing the team isn't short on is enthusiasm with the players just happy to be playing.
"That's the biggest difference as compared to past years, where guys were coming off playing 50 or 60 games already," Dillard said. "These guys have come off playing 15 or 16 games."
Dillard said the players haven't wanted practices to end.
"Can we stay and hit more coach? Can we stay and hit more? They'll ask," Dillard said. "And we've already hit for two and a half hours."
Sartori and Miller last played on March 10 in what turned out to be A&M's season-ending 6-2 victory at Rice. Sartori went 2 for 4 and Miller struck the last three batters on 11 pitches.
"It's been way different than normal [this spring]," Miller said. "Usually, we're just coming off a full season, but now we haven't done anything for a few months. This is the first time we get to get out there live. I know everybody is excited; everybody is anxious to get back and start playing."
Satori feels like a Little Leaguer.
"I'm so excited; I can't wait to get to the ballpark each and every day," Satori said. "It's been very different, but we're all having to deal with it. It's going to be a fun summer."
•
NOTES — The game will be broadcast on KZNE (1150 AM). … The Bombers' 11-point COVID-19 readiness plan for games was approved by county and local health officials last week. Travis Field, which will be limited to 50% capacity, can hold 1,100 to 1,200 fans per game, depending on seating figuration. The Bombers will have social distancing in place for every section of the park and fans must be wearing a mask to enter. … Tickets are $7 in advance and $10 at the gate. … This is the Bombers' 14th season and the 17th for the TCL. … The home team can use all 35 players on the roster while the visitors can use 30. … Miller played for the Bombers in 2018, making seven appearances with 16 strikeouts and 10 walks in 9 1/3 innings. Miller and Smith also played in the Cape Cod League last year with both on the Falmouth Commodores. Smith had five homers in 20 games and Miller had a save in four appearances. … Dillard was the Bombers' associate head coach and pitching coach until former coach Brian Nelson was named the TCL's commissioner on June 16. Dillard helped Nelson recruit the players for this year's team and the 2018 and '19 squads. … Dillard, who is Bryan High's head baseball coach, has plenty of TCL experience. Dillard, who pitched for Sam Houston State and graduated in 2000, was the pitching coach for the Denton Outlaws in 2006 when they won the TCL. He was the head coach of the Woodlands Strykers, taking over just after the 2015 all-star break and through the 2016 season when the club disbanded. … The Bombers' late additions include former Madisonville pitcher Zach Poe, who will be attending Tarleton State after stops at Sam Houston State and Paris Junior College. The others are Hendrix College third baseman Adam Bland, Texas-Rio Grande Valley outfielder Coleman Grubbs and Dallas Baptist shortstop Jeffrey David, who was batting .351 with two homers and 15 RBIs when the season ended. … The Bombers will compete in the South Division with TCL holdovers Victoria Generals and Acadiana Cane Cutters along with the San Antonio Flying Chancias and Hairy Men. The North will have new-comers Amarillo Sod Dogs, Amarillo Sod Squad, the Drillers and the RoughRiders along with the holdover Texarkana Twins. The top two teams in each division will advance to a best-of-3 divisional series starting Aug. 4 with the winners meeting for the championship on Aug. 8.
Be the first to know
Get local news delivered to your inbox!