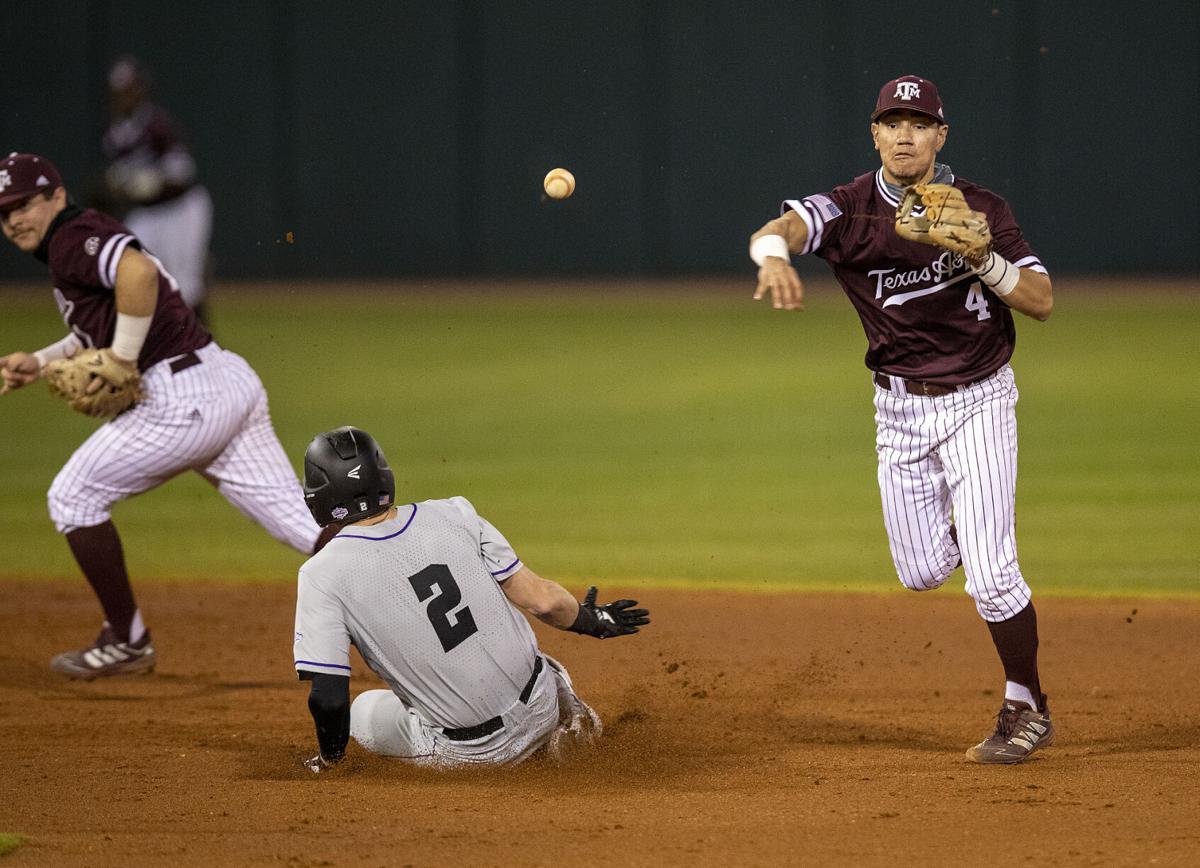 As fans cleared out of Blue Bell Park on Tuesday, the Texas A&M radio postgame show blared through the suite level of the stadium. Commentator Will Johnson, with a sigh, reminded the audience of his pregame prediction for the midweek game — an Aggie win.
Abilene Christian slipped out of Blue Bell Park with a 6-5 victory, the Wildcats first against the Aggies in the program's eight-year history.
Aggie senior first baseman Will Frizzell was reminded that midweek games aren't always a sure thing in college baseball.
"It's baseball," Frizzell said. "Stuff like this happens in baseball. We've got to be better as veterans in the locker room and really get everybody going, because we've got to be better than this."
A&M's four walks, three hit batsmen, two errors and four wild pitches had a hand in all of ACU's runs.
Aggie starter Chris Weber issued all four walks, allowing three runs on four hits in 3 1/3 innings. None of the runs were earned.
Wildcat reliever Tanner Riley (1-0) picked up his first win of the season, throwing three innings of one-hit baseball with three strikeouts.
ACU (3-1) took a 2-1 lead in the top of the third inning when two runs scored on a Weber wild pitch. Both runs were unearned thanks to a throwing error by freshman shortstop Kalae Harrison.
ACU built its lead to 3-1 thanks to another throwing error. Weber fielded a slow grounder from Sebastian Randle and tried to turn a double play but threw the ball in the dirt, allowing Brett Hammit to reach second safely as Randle reached first. Two batters later, Mike Brown chopped a swinging bunt just fair that hung in the air long enough for a run to score and the left fielder to reach first safely.
In the sixth, ACU plated two, which included a leadoff hit batsman by reliever Chandler Jozwiak. Both runs scored on an a single to right by pinch hitter Tommy Cruz as the Wildcats tied the score at 5.
A&M (1-3) lit up the scoreboard first on an RBI single by senior transfer Bryan Sturges in the bottom of the first. The lined base hit to left scored Logan Sartori, who reached by taking a pitch to the body in the opening at-bat of the inning.
The bats came alive for the Aggies in the fourth and fifth innings, starting with an RBI single by Harrison in the fourth. Ty Coleman drove in two in the sixth after a passed ball allowed Bryce Blaum to scamper across the plate earlier in the frame as A&M took a 5-3 lead.
After throwing 46 pitches in appearances both Saturday and Sunday, right-handed sophomore Alex Magers threw again for A&M, scattering two hits over an inning. Should Magers continue to be a mid-inning workhorse for the Aggies, he said he could throw as many as 60 pitches a week.
"It definitely feels good to have that trust from [head coach Rob Childress]," Magers said.
With the score tied at five and one out in the top of the ninth, ACU's Hunter Gieser doubled to right center. He came out for pinch runner Alexei Cazarin, who advanced to third on a wild breaking ball by reliever Joseph Menefee. During that same at-bat, Wildcat catcher Mitchell Dickson hit a towering fly ball to right, allowing Cazarin to score on the sacrifice.
Riley retired the top of A&M's lineup in order in the bottom of the ninth to seal the victory.
"There's no excuse for that," Childress said. "We're very talented and we have been in practice mode."
A&M will host Tarleton State at 6:30 p.m. Wednesday. Childress said the coaching staff has candidates for a starting pitcher but hadn't yet made a final decision. The Texans will throw right-handed freshman Landon Cody in his first career start.
While the Aggies are off to their first 1-3 start since 2000, Frizzell said hanging heads won't be an issue.
"The energy in the dugout has been good," Frizzell said. "Obviously, it could be better, because we could be winning. When you're winning, things are going a lot better in the dugout. We're not going to go into tomorrow pouting and doing that stuff. We're going to come out tomorrow and win a baseball game."