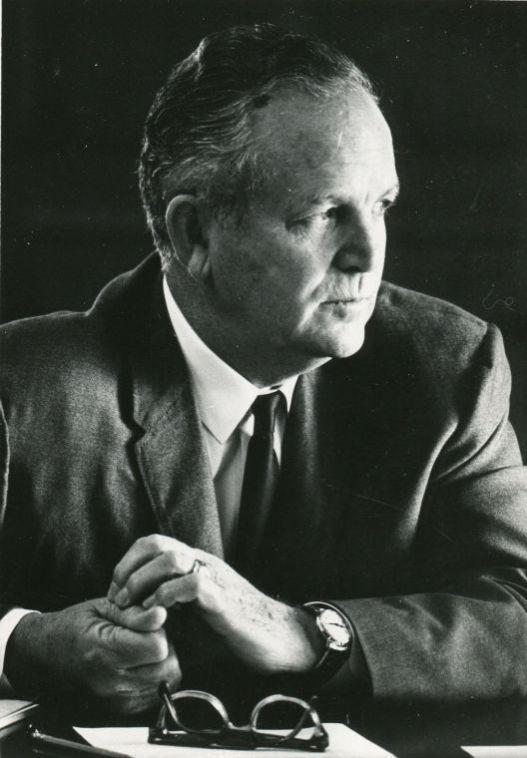 Maj. Gen. James Earl Rudder, class of 1932
Born May 6, 1910, died March 23, 1970
A&M president: July 1, 1959 to March 23, 1970
President of A&M System: Sept. 1, 1965 to March 23, 1970
Maj. Gen. James Earl Rudder led troops into combat during World War II, reformed the state General Land Office and was the architect of the modern-day Texas A&M University.
James Earl Rudder was born in Eden, 45 miles outside of San Angelo. He attended the local high school, where he played basketball and football for the Eden Bulldogs. As a teenager who focused on extracurricular activities more than academics, Rudder used sports "as a vehicle for personal development," according to Rudder: From Leader to Legend by Thomas M. Hatfield.
After graduating in 1927, he attended John Tarleton Agricultural College (now Tarleton State University) in Stephenville. He majored in civil engineering and played center on the football team. Rudder's coach, W.J. Wisdom, had high expectations of winning, according to John Tarleton and His Legacy: The History of Tarleton State by Chris Guthrie. Wisdom emphasized strength conditioning and fundamentals.
Rudder flourished in the college atmosphere, according to Rudder: From Leader to Legend. All men on the coed Tarleton campus were required to be in the Corps of Cadets, and Rudder discovered a passion for military science. Rudder left school after the Tarleton Plowboys won the junior college football championship in November 1927, because he could not afford the tuition, according to Hatfield. He returned to Eden, lived at home and worked on construction crews building roads from Eden to Brady, 32 miles to the east. He was able to save enough money and return to Tarleton the next fall.
Rudder transferred to A&M College for the fall 1930 semester, and changed his major to industrial education, which was typically the degree plan for students who sought to be teachers, according to the Texas State Historical Association. Rudder wanted to be a football coach.
At A&M, Rudder was more studious than he had been at Tarleton. He played football and competed in intramural wrestling. Rudder worked several part-time jobs on campus, including waiting tables at Sbisa Dining Hall. He chose the infantry regiment in the Corps of Cadets, according to the 1932 Longhorn yearbook.
Rudder took classes year-round, and finished his degree in 21 months. He graduated in June 1932. He was commissioned as a second lieutenant in the Army Reserves, and was required to attend a two-week training every summer.
A general in the making
Rudder's first job out of college — in the midst of the Great Depression — was digging ditches for 15 months along the highway from Eden to Menard, 21 miles to the south, according to Rudder: From Leader to Legend.
The following September, he began teaching history, math and chemistry at Brady High School in Brady, about 32 miles east of Eden. Rudder coached basketball and led the Brady Bulldogs' football team to a 42-7 record in four years.
In 1937, Rudder married Margaret Williamson, part of a prominent ranching family in Menard. The two met during the summer of 1933, when she was on break from attending the University of Texas. The couple inherited about 9,000 acres near Menard, which would become the Rudder Ranch.
Rudder and Margaret would have five children: James Earl Jr. (born May 9, 1940), Anne Margaret (May 28, 1942), Linda (March 17, 1947), Jane (June 16, 1948), Robert Dee (April 16, 1954).
Rudder returned to Tarleton in fall 1938 as head football coach. When war began to escalate in Europe, Rudder took extension courses and attended officer schools in anticipation of being called to active duty.
World War II
Rudder reported for duty on June 18, 1941, as a first lieutenant in the 2nd Infantry Division at Fort Sam Houston in San Antonio. The next day he was promoted to captain. He trained in San Antonio and Fort Benning, Ga.
The Rudder family — Earl, Margaret and their two children at the time — were living in an apartment near Fort Sam Houston when they heard the Japanese had attacked Pearl Harbor. Rudder received orders to go with a company of 165 soldiers in the 2nd Division to protect the Dow Chemical plant in Freeport, located along the Gulf coast about 46 miles southwest of Galveston. German U-boats were active in the Gulf of Mexico, sinking oil tankers and U.S. ships during the early part of the war. The chemical plant in Freeport processed seawater to extract magnesium, which was key in building airplanes and explosives.
Rudder returned to Fort Sam Houston in March 1942. By July, Rudder was transferred to the 83rd Infantry Division at Camp Atterby in Edinburgh, Ind. Rudder was promoted to major in November 1942. By spring of 1943, he was tasked with designing a training program that emphasized teamwork and problem solving. Commanding officers were so impressed that in June they picked Rudder to command the 2nd Ranger Battalion. The battalion, which had been activated in April 1943 at Camp Forrest in Tennessee, was in disarray and needed a leader, according to U.S. Army Special Operations in World War II by David Hogan.
Rudder had not experienced Ranger training. "When a general asks you to volunteer for a job, you volunteer," he recalled years later.
Rudder "proved to be a popular leader, hosting monthly 'gripe' sessions with his troops and improving their quarters," according to Hogan. "For all his affability, he insisted on high standards in the unit. ... [He] pushed his men through an intensive training program, focusing on amphibious assaults and infantry fighting."
The 2nd Ranger Battalion practiced amphibious raids at Fort Pierce, Fla., in September 1943, and trained in advanced tactics at Fort Dix, N.J. From there, Rudder was promoted to lieutenant colonel, and the battalion prepared to go overseas.
Rudder directed the Army to notify his eldest brother — John, who lived in Brady — if he were killed in action, so Margaret would not receive bad news from a stranger.
The Provisional Ranger Group included the 2nd and 5th battalions — 984 men — and Rudder was the commanding officer. The Rangers were among 15,000 American troops aboard the Queen Elizabeth ocean liner that headed for Great Britain in November.
Tactical and physical training commenced upon arrival in England. Rudder and other commanders were briefed by Combined Operations Headquarters in January 1944, and tasked with planning a joint raid. It would be pivotal for a larger Allied invasion on the coast of continental Europe, aka Operation Overlord.
Rudder's focus was to be on a jutting cliff called Pointe du Hoc along Normandy beach in France. German defenses had posted six 155 mm howitzer cannons and antiaircraft guns to fortify the area. The troops' preparations included cliff climbing and amphibious landings at night. The mission would require "an elite band of warriors commanded by a bold and inspirational leader" to accomplish a frontal assault and scale the cliffs, according to Hatfield. A high number of casualties was expected.
Gen. Omar Bradley, commander of the U.S. Army during the Normandy invasion, later wrote of Rudder in his memoir: "No soldier in my command has ever been wished a more difficult task than that which befell the 34-year-old commander of the Provisional Ranger Force."
After a month of briefings and training, the Rangers and Allied troops boarded ships on June 5, 1944, bound for the invasion of Normandy. More than 150,000 servicemen would make the initial June 6 landing of Operation Overlord, according to the U.S. National D-Day Memorial Foundation.
D-Day
On the morning of June 6, the battleship Texas fired high-explosive shells, each weighing 1,500 pounds, at the pointe. Air raids kept the Germans in their underground concrete bunkers and tunnels. The Rangers were scheduled to land on Omaha Beach at 6:30 a.m., ahead of the rest of the Allied forces. Poor visibility, rough weather and radio silence caused navigational errors and delayed the landing until 7:08 a.m. The delay benefited the Rangers, because the bombers also arrived late. Rudder and his men would have been in the air crews' target areas.
The Provisional Ranger Group was divided into three task forces. Rudder led Task Force A's 250 men on beaches to the east side of the crater-riddled pointe. The Rangers immediately came under German fire while crossing the beach. The Rangers employed two methods of getting over the cliffs: steel ladders and rocket-propelled grapnel hooks with ropes attached. The ladders were in 4-foot sections to make transport easier and could be assembled as a person climbed up them. Despite Germans dropping grenades over the cliffs and cutting many of the ropes, the first Rangers were over the 100-foot cliffs within 10 minutes.
Pointe du Hoc had interconnecting tunnels, trenches and machine gun emplacements. Part of the Rangers' mission was to set up a blockade on the roadway connecting the beaches, to prevent the Germans from rushing forces to Omaha Beach. By the afternoon, Rudder's forces relayed their first radio message, according to the U.S. Army's Center for Military History: "Located Pointe du Hoc — mission accomplished — need ammunition and reinforcements — many casualties."
Task Force A was down to less than 100 men, according to Omaha Beachhead by the Historical Division of the War Department.
Rudder led the troops for three days. A bullet went through his left leg without hitting a bone or major artery the first day. A medic applied a field dressing. Thirty minutes later, Rudder was taking cover with two officers in a captured German bunker. The bunker collapsed during an explosion, and the two officers died. Rudder had shrapnel from the incident under the skin of his left arm for the rest of his life, according to a July 1997 Eagle article.
Rudder and his Rangers went on to fight in Brittany, France, and the Hurtgen Forest in Germany. The 2nd and 5th Ranger battalions were each awarded a Presidential Unit Citation. Rudder received the Distinguished Service Cross, the second-highest military award, for "his determined leadership and dauntlessness ... inspired his men so that they successfully withstood three enemy counterattacks," according to the citation.
The French erected a monument on the cliff at Pointe du Hoc, overlooking Omaha Beach, recognizing the Rangers' sacrifice and victory.
"The monument consists of a simple pylon positioned atop a German concrete bunker with tablets at its base inscribed in French and English," according to the American Battle Monuments Commission profile. "This battle-scarred area on the left flank of Omaha Beach remains much as the Rangers left it."
Battle of the Bulge
Rudder received orders for a transfer in early December 1944 to become commander of the 109th Infantry Regiment in the 28th Infantry Division in Luxembourg. The regiment protected 10.3 miles of the Allies' 75-mile front line. The rough terrain of the Ardennes Forest and mountain range provided a natural barrier.
On Dec. 16, German forces launched a surprise attack on the front lines, intending to divide the Allied forces advancing to Germany, and to cut their supply routes. Small American units were able to delay the German advance — thus the initial attack created a "bulge" in the Allied front lines. It was a final attempt by the Germans "to turn the tide of the whole war," according to the National World War II Museum.
When the German attack commenced, Rudder's regiment set up at strong points in abandoned villages of the Ardennes Forest along the Sûre River, but the 4,985 soldiers were outnumbered 10 to one by German troops approaching from the river's north bank. Despite the odds, Rudder's infantry regiment held the line. Rudder's plans utilized the high vantage points of the hills and ridges overlooking the roads the Germans would use. According to Luxembourg historian Robert Gaul, the regiment's prevention of German forces crossing the river during the first four days of the battle was critical, Hatfield wrote in Rudder: From Leader to Legend.
The Battle of the Bulge continued into January 1945, when Allied forces regained ground from the German advance. German troops eventually lacked sufficient fuel and ammunition to continue, so they were forced to withdraw.
The battle is one of the United States' biggest and bloodiest battles of WWII. Approximately 80,000 Americans were counted as casualties (killed, captured or missing in action), according to the National World War II Museum. More than 407,000 American soldiers were killed in action during WWII. (Of those, 953 were Aggies.)
Rudder received a Silver Star and an Oak Leaf Cluster in lieu of a second Bronze Star. The Silver Star, the third-highest military honor, was awarded for his "gallant and skillful leadership," according to the citation. "His outstanding tactical ability permitted his Regiment to inflict high casualties on the enemy with a minimum loss to his own troops."
Rudder was promoted to colonel in February 1945. After the war, Rudder returned stateside in August 1945, for the first time in two years. He would revisit Pointe du Hoc twice in the remaining years of his life. The first was in 1954, 10 years after the D-Day invasion, with his 14-year-old son Bud.  The second time was in 1969, months before his death, with his youngest son, 14-year-old Bob.
Post war
After the war, Rudder resumed civilian life in Brady and threw himself into family life and ranching, transitioning from organizing troops to cattle. He also co-owned a business selling General Electric appliances and Goodyear tires from 1946 to 1950. Residents asked the local war hero to put his name on the mayoral ballot in 1946. Without campaigning, he beat the incumbent. Rudder would serve two more times, his third term ending in 1952. He did not seek a fourth term.
In 1948, Lyndon B. Johnson appealed to Rudder for help in his campaign for a seat in the U.S. Senate. When Johnson was president 15 years later, he continued to seek Rudder's help and input on issues including military preparedness, poverty, education and social issues in South Vietnam, according to Rudder: From Leader to Legend. Rudder and his wife were occasionally guests in the White House.
Rudder was promoted to brigadier general in the Army Reserves in 1954. He was 44 years old and took over command of the 90th Infantry Reserve Division. He received his last promotion to major general in 1957.
In 1955, Gov. Allen Shivers appointed Rudder as state land commissioner. The state General Land Office is responsible for state lands and resources, serves veterans and archives land documents dating back to the Republic of Texas. The office had been plagued by a scandal over bookkeeping irregularities, bribery and fraud committed by the board of the Veterans' Land Program. (Rudder's predecessor, Bascom Giles, served almost three years in prison for his involvement.)
Rudder was instrumental in reforming the state agency and restoring public confidence in the office, according to the Texas State Historical Association. He also worked to increase the permanent endowments for public schools and universities. Rudder was elected to the office in 1956, but left in January 1958, before his term was over.
Texas A&M's Board of Directors had approached Rudder with an appointment as vice president of the college in September 1957. Rudder did not want to leave his job as land commissioner unfinished, so the announcement was postponed until December.
Return to Aggieland
Marion Thomas Harrington, class of 1922, served as A&M president and as the system president from 1953 to 1965. Because of Harrington's system duties, the two Aggies shared the tasks of president. Rudder was the primary decision-maker of the college with the support of the Board of Directors, and Harrington focused on networking and maintaining relations with professional organizations and alumni, according to Rudder: From Leader to Legend. As part of Rudder's contract, he and his family would receive housing. They lived in the President's House on campus, the same house built when Lawrence Sulllivan Ross became president. Although Harrington was officially the president, he had a residence in College Station.
Rudder spent the next year establishing himself, making himself approachable on campus while assessing ways to improve the college. Rudder became the college's 16th president in 1959.
A&M was struggling to increase enrollment. Prior to the 1960s, A&M's highest enrollment was 8,356 in 1948, during the post-war era when a surge of veterans were returning to school. Public opinion was disenchanted with the idea of a male-only military college, according to Dethloff's book. Change was necessary in order to keep A&M competitive in academics, funding and athletics.
Three pillars of change highlight the Rudder era at A&M: The campus was renamed, enrollment was opened to female and black students, and participation in the Corps of Cadets was made optional.
Strategies for change
Rudder tasked a committee called the Century Council in 1961 with developing goals for the next 15 years, in time for the college's 100th anniversary in 1976. Included on the committees were former students and campus outsiders including women, newspaper editors and state officeholders. The college was essentially conducting a self-evaluation.
"I hope you will look at A. and M. College with the future in mind, visualizing as best you can how all of us as a team can improve this institution and how we can better serve the people of Texas, especially the youth of this state," Rudder said in an address at a committee conference.
A hot topic was coeducation. Much of the resistance and criticism Rudder met was from former students. To many of them, according to A Centennial History of Texas A&M, changing A&M was a threat to its core and culture. Opponents said that A&M was unique and fostered a fraternal bond and camaraderie among the cadets. Many alumni believed that A&M's traditions would be lost. Rudder received angry letters and telegrams. A graduate even mailed Rudder his diploma — torn in half.
Women had attended A&M as students seeking course credit, but they were typically related to a member of the faculty and could not receive degrees. The Board of Directors voted on April 27, 1963, to admit women on a limited basis. However, housing accommodations on campus were not available to women. All women had to meet admission requirements, and enrollment was limited to wives and daughters of an enrolled student or faculty member, according to A Centennial History of Texas A&M. Graduate studies were open to all women. The coed policy would go into effect in June 1963, and 150 women enrolled that September.
Rudder gave a speech April 29 at G. Rollie White Coliseum. He told the students to "face the facts of life … There isn't much you can do. The Board of Directors has made the decision," according to his speech manuscript on file at Cushing Memorial Library. Rudder informed them of their options: "You can pick up your marbles and leave and throw in with some other school. Or you can suck up your guts and work to make A&M great. Those that choose to defect should know they leave A&M in the hour of her greatest need."
The Board of Directors adopted a policy in 1966 that maintained the admission of women on a limited basis, but authorized the university president to also admit women at his discretion, according to A Centennial History of Texas A&M. Rudder instructed the admissions office to admit any woman who met standard admission criteria. The board officially agreed to acknowledge and admit women without the limitations or presidential discretion in 1969.
Another phase of reform was adding the prestige of "university" to A&M's name. The college's name was changed by the Texas Legislature in August 1963 from "Agricultural and Mechanical College of Texas" to "Texas A&M University." The "A&M" is regarded as a symbol of the campus' history, not a technical abbreviation of "Agricultural and Mechanical." "AMC" was phased out of the Aggie Ring by 1967. However, "AMC" is still retained in the lyrics of The Spirit of Aggieland.
The Supreme Court had ruled in 1954 that racial segregation in public schools violated the 14th Amendment's equal protection clause. A&M  desegregated in the summer of 1963 when three students enrolled in June, according to Cushing Library's "In Fulfillment of a Dream" exhibit.
Effective September 1965, participation in the Corps was made voluntary for the incoming freshman class. The wave of changes increased enrollment from an average of less than 7,000 students in the 1950s to more than 12,000 in 1969.
Honoring an Aggie
Rudder held the positions of university president and system president from 1965 until his death in March 1970. During the last year of Rudder's life, his deteriorating health became apparent to those closest to him, according to Rudder: From Leader to Legend. Doctors diagnosed him with suffering from hypertension and gout. In November 1969, he named Jack Williams, then-vice president of the University of Tennessee, as his preferred successor.
On Jan. 29, 1970, Rudder complained of a headache and was taken to a Bryan hospital. He was diagnosed with a heart ailment according to a February article in The Eagle. The next day, he was transferred to St Luke's Episcopal Hospital in Houston, where his diagnosis was changed to cerebral hemorrhaging. Rudder had surgery to remove a blood clot in his brain, and had three procedures to stop stomach bleeding caused by a stress ulcer — all in February.
Rudder's duties were delegated to three administrators who would act in his stead. His condition improved, however, and "doctors looked for a rapid recovery barring unforeseen developments and a return home in 30 days to six weeks" according to an update Feb. 24 in The Eagle. Members of the Board of Directors were expecting him to be able to make administrative decisions by the spring. However, Rudder's health took a turn and he was diagnosed with a kidney infection on March 22. He died the next day from complications.
Rudder lay in state in the rotunda of the Administration Building on March 24. (The only other person to lay in state in the rotunda would be Eli Whiteley, Medal of Honor recipient and longtime A&M professor, in 1986.)
Rudder's coffin was draped with an American flag. The Ross Volunteers, an elite honor guard in the Corps of Cadets, flanked his coffin. Students carried the casket to G. Rollie White Coliseum for a memorial service attended by 5,000 people. Among the crowd were President Johnson and members of the 2nd Ranger Battalion that Rudder led at Normandy. Rudder was buried in the College Station Cemetery. Cadets acted as pallbearers. The Ross Volunteers fired a 21-gun salute and Aggie Band buglers played Silver Taps.
Rudder's legacy is still a part of the A&M campus and community. A 12-mile stretch of Texas Highway 6 that runs through Bryan-College Station was renamed Earl Rudder Freeway in 1999. A high school in Bryan is named after him, and its athletic teams are known as the Rudder Rangers.
A special unit in A&M's Corps of Cadets that prepares members for Ranger School was named for Rudder and the WWII battalion in 1971.
The Rudder Tower, a conference and events center, was completed in 1974 and is located next to the Memorial Student Center. A portrait and Rudder's military medals are on display in front of Rudder Auditorium, where the university hosts entertainment performances and guest speakers.
A bronze statue of Rudder was dedicated in 1994, located by Rudder Tower. From the south end of Military Walk, it faces the center of campus.
After Rudder's death, Margaret continued to stay involved with the university and community events. An all-female residence hall, located on the south side of campus, was named in her honor in 1989. She died in 2004 and is buried alongside him.
— Compiled by Claire Heathman